/Our Vision
Maybe it's a first start.
Maybe it's a fresh start.
No matter where you are in life,
Apostolic Temple Church is a place
where you can
BEGIN AGAIN
.
Our Mission
CONNECT people with Jesus Christ
EQUIP believers
SEND

them out to impact the w
orld
Founded in 1918 by the late Bishop G.B. Rowe, Apostolic Temple Church (formerly known as Midway Gospel Tabernacle) has a rich history spanning more than a century. Thousands have been saved and touched by this ministry.
In celebration of our 100th year of ministry in 2018, we created a video series looking back at the past 100 years, and are excited to share those with you here. Enjoy!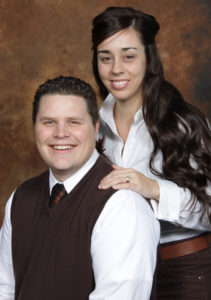 Ordained in 2011, PASTOR CHRIS ROWE and his wife Cortenay are working together to move Apostolic Temple Church forward. When he took over leadership of the church, the Lord impressed on Pastor Chris' heart a simple phrase: Dare to Dream.
Dare to Dream means having the courage to pursue the ministry and dream that God has placed on your heart. We believe that doing so will enlarge the borders of the church and help us collectively meet the needs of our society. Growing diverse ministries with Jesus Christ at the heart will help us reach our families, neighbors, co-workers, friends, and everyone we contact.
1 Corinthians 12:18 But now hath God set the members every one of them in the body, as it hath pleased him.
Now, as we enter Year 101 of ministry, our leadership team is hoping you will join us as we
move forward into the future.
Our Beliefs
We are an Apostolic church, and we believe this beautiful gospel gives each of us the opportunity to BEGIN AGAIN.
O U R W O R S H I P
We Pray Together Out Loud
"they lifted up their voice to God with one accord…"Acts 4:24
We Lift Our Hands In Praise
"Lift up your hands in the sanctuary, and bless the Lord." Psalm 134:2
We Sing With All Of Our Hearts
"Make a joyful noise unto the Lord, all the earth: make a loud noise, and rejoice, and sing praise." Psalm 98:4
We Play Musical Instruments
"…and all the house of Israel played before the Lord on all
manner of instruments…" II Samuel 6:5
We Clap And Shout Unto God
"…O clap your hands all ye people; shout unto God
with the voice of triumph." Psalm 47:1
We Dance In The Spirit
"…Praise Him with the timbrel and dance: praise Him with
stringed instruments and organs." Psalm 150:4
We Testify Publicly
"I will declare thy name unto my brethren; in the midst of the congregation will I praise thee." Psalm 22:22
We Anoint With Oil For Divine Healing
"Is any sick among you? Let him call for the elders of the church; and let them pray over him, anointing him with oil in the name of the Lord." James 5:14
We Allow The Operation Of The Spiritual Gifts
"When ye come together, everyone of you hath a psalm,
hath a doctrine, hath a tongue, hath a revelation, hath
an interpretation…" Corinthians 14:26
A P O S T O L I C F A I T H
Acts 2:38-43
Then Peter said unto them, Repent, and be baptized every one of you in the name of Jesus Christ for the remission of sins, and ye shall receive the gift of the Holy Ghost. For the promise is unto you, and to your children, and to all that are afar off, even as many as the Lord our God shall call. And with many other words did he testify and exhort, saying, Save yourselves from this untoward generation. Then they that gladly received his word were baptized: and the same day there were added unto them about three thousand souls. And they continued steadfastly in the apostles' doctrine and fellowship, and in breaking of bread, and in prayers. And fear came upon every soul: and many wonders and signs were done by the apostles.
Acts 2:4 And they were all filled with the Holy Ghost, and began to speak with other tongues, as the Spirit gave them utterance.
John 17:20 Neither pray I (Jesus) for these alone, but for them (believer's) also which shall believe on me through their (Apostle's) word;
In the above we have a basis for the Apostolic Faith.
Jesus said, "Except a man be born again, or born of the water and Spirit, he cannot enter the kingdom of God." Truly, you should experience this great gospel for yourself and be ready for his second coming, for it is written, "But if the Spirit of him that raised up Jesus from the dead dwell in you, he that raised up Christ from the dead shall also quicken your mortal bodies by his Spirit that dwelleth in you. (Romans.8:11)
Here are a few books that our pastor believes will challenge and change readers looking to go deeper in their walk with God.